RainbowConsult.DK © 2022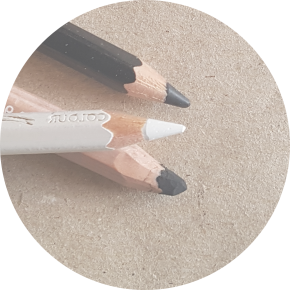 Miscellanous drawings.
Comparatively speaking, only a a brief period has elapsed since pencils were rarities; when to have a pencil was a distinction, and when to have more than one pencil at a time was absolute extravagance.
Quote from: The history of a lead pencil, by Walton Day.
The drawings are primarily in pencil (HB, B, 2B) and mechanical pencils (0.5 HB).
Some series also done in charcoal, crayons and ink.
Material is coarse cardboard, as used by painters to cover your floor for protection.
The images are finished with fixativ for pencil, a colorless, UV protective varnish preserving the graphite.
The images on these pages are mostly 1:10, taken with my mobile phone camera in whatever daylight or artificial light available. Click an image to see the full size image.
Fantasy Maps
Map making process
Other creations