Map making process
We naturally distinguish between places that are real and those that are fantastical or imaginary. The problem is that the distinction is not clear-cut. Maps can contain a mixture of both the real and the imaginary. Many of them are products of the wildest imaginations, and are immersive places of escapism. Yet all of them retain vestiges of the "real" world in which they were created – whether because of a particular feature illustrated in it, the way in which it has been drawn, or even the "real-world" contexts which inspired it.
Quote from British Library's map curator, Tom Harper: What is a fantasy map?
Sometimes I have a strict narrative and detailed description of the map and history I am drawing.
At other times a have an idea that starts of the map, and I go from there, it is fantasy. In the map detailing the narrative will reveal itself.
Sometimes I just don't have a fucking clue.
The world is ever changing...
Mapmaking is an old and well described discipline yet there are no rules other than those you define, and what your fantasy dictates and possibly the audience you want to reach, but there are details and learnings from the field that I found usefull, it is definitely worth taking a bit of time investigating before you forge ahead.
Other sources of information
There are plenty of resources and people willing to share their experiences on the web as well as map generators of different types to help you get started. There are tons of fantasy maps with different purposes and creation processes to lend you inspiration. On Youtube you can find an abundance of instruction videos, detailing the overall process as well as how to draw different map elements. Make your own journey through it all, and save yourself the frustration of "oh, why didn't I know that".
Personally I found most of my initial inspiration from searches like:
Fantasy+maps
Fantasy+map+drawing
Map+making
Fantasy+map+icon+sheets
Some external resources that I go to, when I need inspiration, a new map or a set of names.
guide-to-making-an-antique-looking-fantasy-map
Donjon Fantasy World Generator
Azgaar's Fantasy Map Generator
Watabou's Medieval Fantasy City Generator
Inkarnate map Generator
Getting started
When drawing maps i usually start by creating the map draft on a computer. If you're working of a master map, this will help you frame maps with good balance.
There are many nice map generators that help generate realistic and geopraphical correctly maps, if you're looking to experiment.
I scale the maps to ensure the dimensions match my canvas and pre-process them in a drawing program, before printing the final draft.
I don't detail the maps yet, that is journey I savoir for the canvas.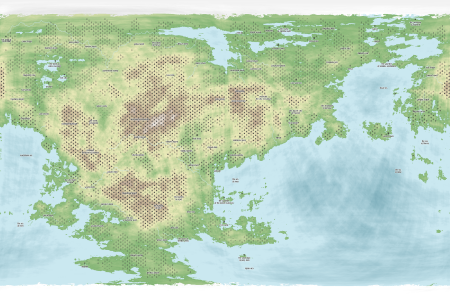 The canvas of my choice is paint-cover cardboard, 100% recycled paper, thick with lots of wonderful structure and texture, but also a little fragile, bending is not allowed.
The surface is full of imperfections and colorspecks, providing an almost living background.
But also a very challenging surface to draw small details particularly in unforgiving ink.
Sometimes there's chunks of nastyness or small woodchips embedded in the surface that makes drawing a straight line, in freehand, impossible.
Applying ink to small labels is a risky business.
But despite all its imperfections and challenges I'm in love with this material and the life it lends to its creations.
If we zoom in on the blank canvas...